The letter Aa.....
While a number of the children in my care are fairly young, I find it nice to still start teaching them the alphabet. Sure they might not have a clue what I am talking about, it helps them with crafts, memory, and fine motor skills. I print out the letter for the week so they can trace them on the lined sheet, just like the big kids in kindergarten do! My daughter loves this cause she gets to do what her big brother is doing at school, but only doing it at home with mommy. I planned a few snacks around the letter Aa, and also made sandwiches into the shape of an A too. Now I am a little slow in times and totally forgot to take pictures of our activities this week. I promise I will try harder with our activities to come.
Here's what we did for the week:
Coloured and cut out Alligators and glued them on to colored paper
Craft can be found at:
Alligator
by DTLK
Made Apple pie (wow that's a task with a 2 1/2 year old and a 4 year old!)
See below for our wonderful recipe
Coloring page can be found at:
Apple Colouring Page
by DTLK
Tracing page can be found at:
Learning to print Aa
by Kids Learning Station
Cut out and pasted some words that start with Aa and the letter Aa by itself
Aa is for: apple, airplane, ant, Alanna, Aliyah, Ashley, Apple Pie, alligator
Made applesauce for a snack
See recipe below.
Cut apples in half to show the kids that the seeds make a star in the inside (then of course we ate them as a snack afterwards!)
Tip: cut apple through the middle horizontal not vertical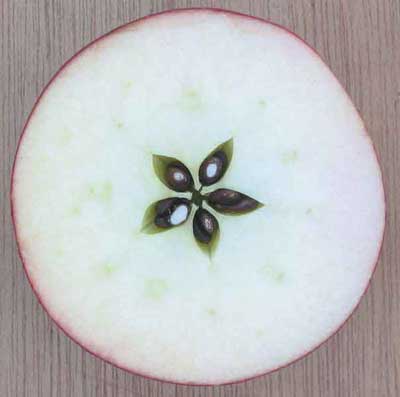 Apple Pie Recipe:
Basic Pie Dough Recipe
Makes one double crust pie or 2 single crust pies.
Ingredients:
2 cups flour
1 teaspoon salt
2/3 cup shortening or lard
2 tablespoons cold butter
4-7 tablespoons cold water
Directions:
Sift the flour with the salt. Cut in the shortening until the mixture looks like small peas. Cut in the butter coarsely. The addition of the butter makes a flaky pastry crust. Sprinkle this mixture with water a tablespoon at a time and mix lightly with a fork. Keep adding water 1 tablespoon at a time, just until dough will come together when you mix it with the fork.Gather the dough into a ball. Dough can be refrigerated until ready to use at this stage. If using now, divide the pastry into 2 sections, one just slightly larger than the other. Take the larger ball of dough and roll it out into a large, thin circle with a rolling pin. Make sure you sprinkle a bit of flour on the surface you are rolling the dough out on before you begin. Use the larger sheet of dough as the bottom crust of a 2 crust pie. Roll out the other piece for the top.
Follow directions on the pie recipe for how to bake the pie.
Ingredients:
5 to 6 cups apples, peeled and thinly sliced
1/2 to 3/4 cup sugar (to your taste and depends on the sweetness of the apples)
3 tablespoons flour
1 teaspoon cinnamon
dash salt
2 tablespoons cold butter
Preheat the oven to 425ºF.
Lay 1/2 the pastry, rolled out to about 1/8" thickness, in the bottom of the pie pan and press it in gently to lay flat in the pan. Leave the excess crust hanging over the edges for now.
Place peeled, sliced apples in a bowl. Mix together the sugar, flour, salt and cinnamon. Pour over sliced apples and mix. Fill the pie pan with the apples and pat down with a spoon. Dot the filling with pieces of butter. Moisten the lip of the pie pan with water. Place the top layer of rolled out crust over the filling, making sure crust reaches outer edges of the pie pan all around. Seal the edge and flute all around (see notes below for how to flute a pie edge). Take a fork and prick the pie top in several places to create vents for steam to escape. Bake for 50 minutes, until pastry is golden and the filling is bubbling through the vents.
Let cool a bit before cutting to allow the filling to settle
Ingredients
4 apples - peeled, cored and chopped
3/4 cup water
1/4 cup white sugar
1/2 teaspoon ground cinnamon
Directions
In a saucepan, combine apples, water, sugar, and cinnamon. Cover, and cook over medium heat for 15 to 20 minutes, or until apples are soft. Allow to cool, then mash with a fork or potato masher.
A nice simple recipe for kids to help with, doesn't take a lot of time and you can even add berries or other fruit to the apple mixture while cooking for a great change in flavor!